We can also print paper bags / shopping bags / event bags with the desired logos, images, colors and graphics to suit the varied requirements of the clients. Printing big sizes shopping bags need extra efforts but we have such advanced machines, which make it easy for us to execute the process with perfection and excellence. Our wide range paper bag manufacturing unit gives you state of the art quality paper bag production with multi colours printing and luxury finishing such as:
Eco friendly paper bag is one of the fastest moving carry bags in dubai for almost all business industry to save our planet and reduce plastic its wastage too. There are several eco-friendly bags can be printed by us with your company logo and information. Eco-friendly bag main purpose is to Combat plastic pollution. The serenity of a beach and tranquillity of warm water engulfing your toes can only be disrupted by the plastic waste and reduce carbon. There are many options available such as:
We are a leading Manufacturer, Exporter, Wholesale Supplier of Custom Printed Eco-Friendly Bags in dubai, UAE. Sahara printing company main aim is to provide sustainable eco-friendly bag printing solution in Sharjah UAE at low-price, high-quality material and faster turnaround. to using eco- bag the biggest challenge to making that transition is actually doing it! With so much plastic building up in our environment – from the tops of the mountains to the bottom of the ocean – It is imperative that we find a solution to plastic pollution and lets be together to say no plastic in our advertising material.
And also Paper bags helps to reduce greenhouse gases in the atmosphere by requiring less energy to produce than plastic bags. On average, two-thirds of the energy used to make paper is carbon-neutral or renewable so lets go for eco friendly option.
A finest quality printed paper bags can be suitable for all industry regardless of size of firm or business. 1000 paper bag printing is nothing it can be affordable for even small tiny business firm and promote and share luxury shopping experience with your clients. Paper carry bag or gift bag can be art matte or glossy with lamination and 4 colors or single color printing one side or both sides depend on your budget and we do various customized size sin A5, A4, A3, landscape and portrait and other customized sizes depends on customer requirement based on your products and needs. Of course we have decades of great experience by manufacturing paper bag in United Arab Emirates we provide finishing for paper bags: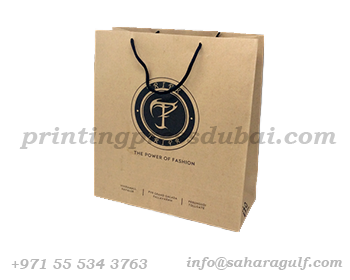 Descriptions of kraft paper bag printing in dubai: Kraft paper bag printing is one of the pure eco-friendly and sustainable futuristic paper bag printing solution for all packaging and carry bag solutions. We provide wide array of kraft paper bag printing services in Sharjah, dubai with Bleached/White Kraft Paper Bags, Food Take Away Paper Cover, Grocery Paper Bags, any Size with Customized Printing as per Clients Requirement. 60gsm - 300 gsm, Virgin Kraft Paper, and Recycled Kraft Paper also available. Also available as Brown Kraft Paper Bags, Food Take Away Paper Cover, Grocery Paper Bags, any Size with Customized Printing as per Clients Requirement. 60gsm - 80gsm, also available in 120 and 300 gsm. Virgin Kraft Paper and Recycled Kraft Paper also available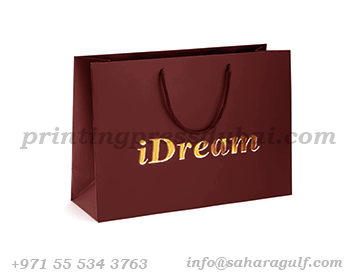 Sahara printing press provide all types art matte or uncoated matte finish paper bags printing in dubai with a minimum quantity of order customized and readymade options available. Customized matte or kraft uncoated matte paper bags are available in an range of color inks to choose from single cut colour to cmyk process colours too. Our promotional paper bag printing is totally nature friendly, low budget and superior quality of eco-friendly from our soy inks all the way to the recycled material bags. Our matte paper bags material is high quality, lightweight, also heavy duty to carry and hold heavy stuff.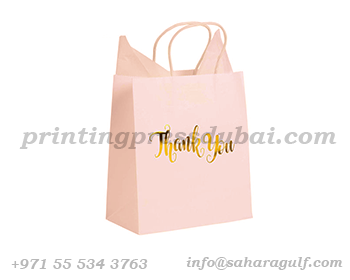 Level up your gifting experience with our gold foiling or hot stamping luxury Gift Bags with custom design printing. Printing press in dubai provide Stylish and well-constructed matte and glossy laminated premium materials, any gift will instantly look that much smarter and more luxurious look and tremendous fashion. Gold foiling paper bag is good options to send gift and sell good too. Stylish and sturdy gift bag made from eco-friendly laminated paper which can Sturdy for heavy gifts like glass jars, ceramic items, etc. also it can be with Water-resistant due to proprietary lamination technique before doing gold foiling on it
Printing press in dubai is one of the UAE largest non-woven bags manufacturer, printer and supplier across UAE and middle east . We print and supply non-woven carry bags, suite bag, dust cover, abaya cover, kandoora cover, grocery bags etc.. Non-woven bag is a new type of environmentally friendly material with a very wide range of applications with low price marketing. None woven bag is not expensive but It can be used for household storage, shopping, groceries, bookstores, gift promotion, advertising, and other purposes. And the styles are diversified, you can make folding bags, handbags, drawstring bags, backpacks, etc., and have a lower price, reusable and also it is cheaper price too.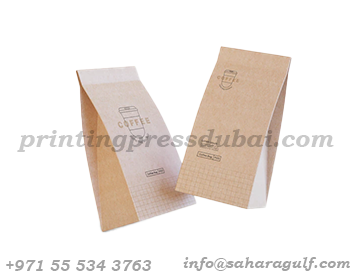 We produce printed Paper pouches which continue to be a popular choice for shopping and food items due to the increased durability and their eco-friendly disposition in UAE market. Paper pouch printing is an efficient packaging option for your food that can offer aesthetic appeal and seal in freshness at the same time delivering safe food distribution among your customers like pizza, burger, nuggets and other fast food. It is made from 100% food grade paper, making it which makes it harmless to pack food. Which widely used in UAE grocery, fast food chain, restaurant and other shops. Paper pouches are steady, durable and can seal and long lasting also cheaper budget marketing and packing material too.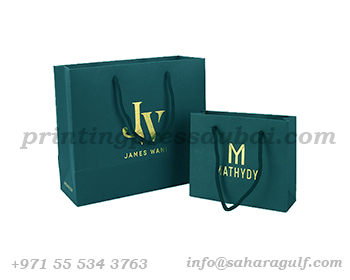 Printing press in dubai offer all types of luxury Paper bags which can be custom printed using a variety of methods including ink printing, foil hot-stamping, embossing, debossing, and digital printing too. Custom luxury paper bag printing designs can range from a simple one- or two-colour print to a completely photo-realistic printed design with cmyk multi colours process. When you order custom paper bags you can choose multiple printing methods and you can print anywhere on your bags, including the insides or bottoms to hold items inside and bottom part firmly steady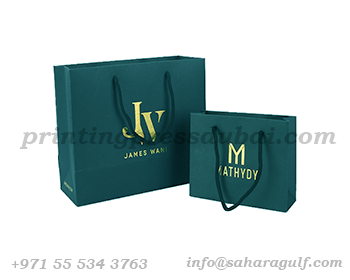 At printing press in dubai, we aim to provide the highest quality of premium paper bag products at realistic prices for your budget and based on your business requirements. We are your one-stop source for premium custom printed paper bags along with all other types of retail and promotional packaging solution in dubai, UAE. Our premium paper bag printing provides care, creativity, and attention to detail with which we approach our work is the key development. We also offer in-house graphic services to assist in all facets of your artwork layout, mock up demo on at free of cost upon job booking.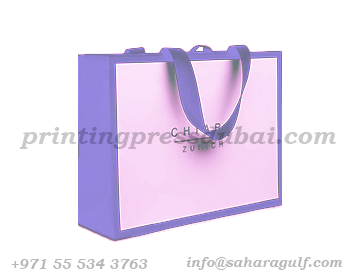 A custom Tote bag also called cotton bag is a very popular type of bags in printing field dubai UAE. The main thing that defines this bag is its simplicity and versatility of its eco-friendly nature to good bye plastic bag. Tote bag always having a simple design, this type of bag can still be used to make a big fashion statement. Are you planning to buy tote bags? Read on as we give you a full guide of everything you need to know about tote bags. Basically, 'tote' means 'to carry'. Because of its large size, this bag can carry quite a large number of items and we can customize based on your requirements. Tote bags are ideal for carrying your items whenever you are doing quick errands. Apart from having different sizes, tote bags are made of different materials.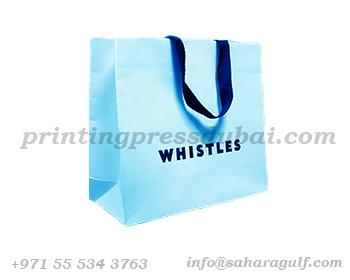 Printing press in dubai is leading jute/canvas shopping bags & Jute promotional bags manufacturer, wholesaler and exporter in UAE. Being an authentic supplier of Eco-friendly bags, we manufacture & export Jute bags Shopping Bags with logo printing custom design and name, Large Jute Bags, Plain Jute Bags, Eco friendly Reusable Shopping Bags, Reusable Grocery Bags and Reusable Tote Bags with fully customized facility & guaranteed quality at an attractive price. We are not only jute shopping bags supplier in UEA by we export printed jute bag to middle east and africa. Jute Bags are the best alternative of plastic carry bags to save both money & environment which user friendly and sustainable too.